Penguin MTB Park
The Penguin Mountain Bike Park is located just 2 km from the township of Penguin on the North West Coast of Tasmania.
The park features more than 6km of XC single trail and mouth watering man made features in the centre of the old speedway featuring jumps, wall rides and a smaller skills park. The park is suitable for riders of all levels and is an ideal area to progress from a fresh beginner to a more seasoned rider.
The Penguin Mountain Bike park is also a good starting point for longer and more challenging rides in to the Dial Range trails at the Southern end of the park, including the famous Iron Tor trail and Montgomery Loop.
Getting There:
From the Bass Highway take an exit to Penguin and head South, away from the township follow the signs to the Penguin Regional Sports Centre and onto Ironcliffe Road. 100m from Sports Complex Road on the left, there is a small parking area and yellow boom gate where limited parking is available. You can connect on to most of the trails from here which will take you to the main clubhouse and skills park area. There are a number of directional signs around the park that should help you to navigate.
Event parking is usually available within the park, take the second yellow boom gate on your left and follow the road into the gravel parking area. Please use extreme caution when driving this road as it forms part of the trail network and therefore you may come across riders. Keep your speed under 10 km/h.
Download the Penguin MTB Park Map here.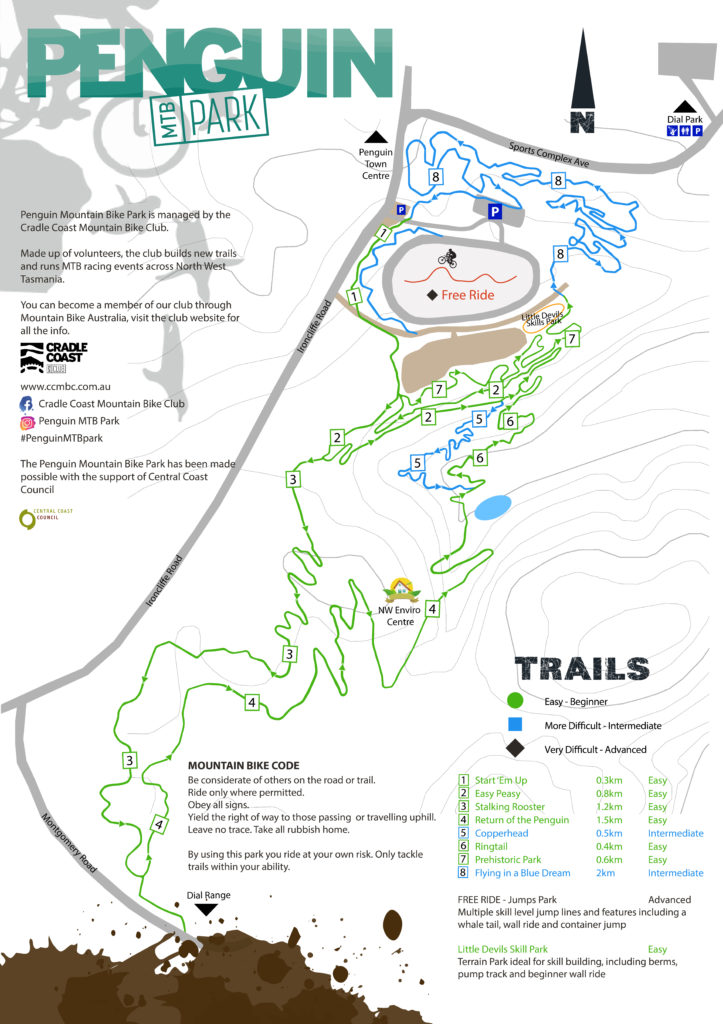 ---
Dial Range and the Iron Tor
Tasmanian MTB Trails
Tasmania has become the ultimate destination for mountain biking! Spoilt for trails in all regions.
NORTH WEST TASMANIA
---
WEST COAST
NORTHERN TASMANIA
---
NORTH EAST & EASTERN TAS
For a comprehensive guide of where to ride in Tassie visit Tassie Trails or Ride Tassie or jump on Facebook and ask the MTB family of Tas MTB or Cradle Coast Mountain Bike Club.
Some trail networks include shared use segments. Please respect other users within these areas and slow down and give way to walkers.